Stafford House Fine Foods
A gem in Wales - wonderful hand made food with a mediteranean twist
The day starts with traditional breakfast, ingredients purchased from local Welsh suppliers, or perhaps a pancake. Lunch menu and pizza menu from 12.00, afternoon teas, followed by our 'Early Bird Menu' which is available until 9.00 p.m. All hand made on the premises.

Come along and relax in our continental cafe bar, enjoy good food at affordable prices, We are licensed so enjoy a glass or bottle of wine, or try one of our traditional welsh beers.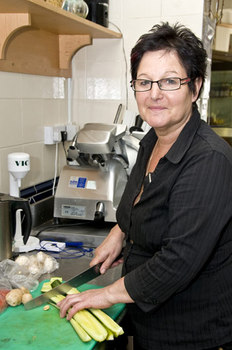 .

We currently open Thursday, Friday and Saturday evenings, but a telephone call will secure you a booking on any evening your prefer. for parties from six to twenty six guests

Entertaining, or here on holiday?
We provide catering for luncheons and dinner parties, these can be at our venue or yours. We can deliver the food to your holiday venue or home or come along and cook and serve your chosen menu.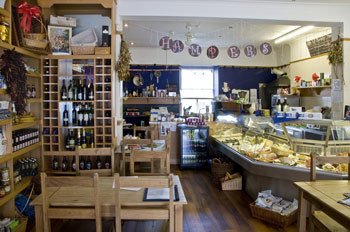 Take food home to either for a lazy supper or to freeze until wanted.

We produce ready meals frozen for easy suppers.

------------------------------------------
ARTICLE FROM THE DAILY POST FOR THE TASTE TEST..

Written by Alyson Roberts - Daily Post.

'I knew there was something special about the place the moment I stepped through the door'

'The tantalising aroma of delicious home cooking an'freshlyy ground coffee whetted my appetite and for the sake of the Tast Test I was Ready'

'~This is going to be good I whispered, as Paula ushered us to a table'
We can provide extensive catering services - see our Dining In page.

You want good catering we are the peoplen 'we wont be beaten'
A must - try our hand made syrups!

We have launched a new range of Balsamic Syrups.
Raspberry Balsamic, Beetroot, Blueberry and a Mulled Balsamic, plain ole Balsamic Syrup.
They are in stylish bottles and look great gift wrapped or in your hamper that we can make up or you at home.

Your meal will probably have a drizzle of one of these, if not just ask us for a taster.
Quality, tradition meets food with a touch of the mediterranean
Stafford House Fine Foods Statistics: 53 click throughs, 34103 views since start of 2022
Eat
Cafe

in

Menai Bridge

,

Anglesey
Opening Times

Monday /Tuesday/Wednesday 9.00-5.30p.m.
Late Openings Thursday.
Friday & Saturday. See our lovely evening menu
Sunday 10.00 - 4.00p.m.

Contact Details

Stafford House Fine Foods

Owner/Manager: Paula Brown

11 High Street,

Menai Bridge

Isle of Anglesey

LL59 5EE

UK.

phone

: 01248 712 368

fax

:

Our Website

News & Special Offers

This is a restaurant with a difference we are a small intimate friendly business in a relaxing atmosphere.

Paula,son Steven are the key team at Stafford House in Menai Bridge. They are passionate about food and people.

We produce all our dishes to a high standard and they are presented with love.

The displayed food is a blaze of natures colours and different textures, all dishes are produced by Paula and Steven.

One of Steves loves is to make the most wonderful bread. todays are walnut and guiness, sundried tomato and seeds, caramelised onion.

Would you like to learn how to make bread, call and arrange a baking session.